Tackling Five Global Challenges at a Landscape Level
Our impacts
In 2022, CIFOR-ICRAF continued to raise the profile of trees and forests in the global landscape, while also deepening and broadening our partnerships.
5.3M
publication downloads
46.5
social media impressions
717
total staff worldwide
630
staff in developing countries
Finance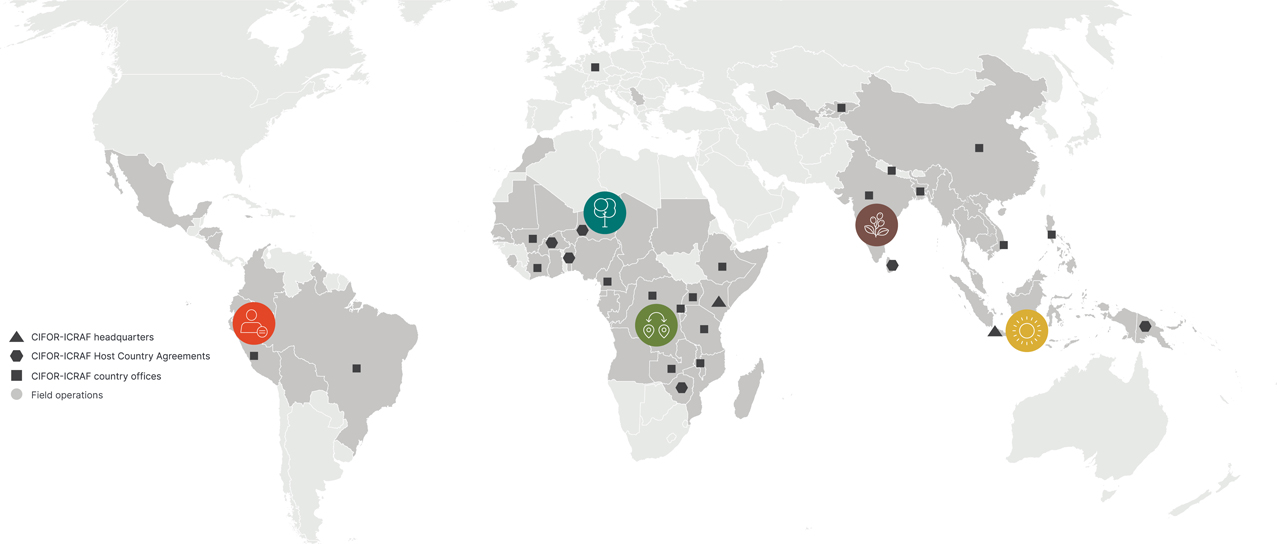 Deforestation and biodiversity loss
As exemplified by our vision of the Sahel Mosaic Engagement Landscape, CIFOR-ICRAF combats deforestation and biodiversity loss across all research areas, particularly through work on tree genetic resources, restoration, sustainable forest management, and soil and land health.

A climate in crisis
Our groundbreaking research in Indonesia's wetland and mangrove landscapes demonstrates how we are providing evidence and analysis of how sustainable forest and wetland management, agroforestry and landscape restoration can help countries meet their commitments under the Paris Agreement.
Dysfunctional food systems
The recently launched Trees on Farms in India project is an example of how we promote healthy diets by supporting landscape management practices and local innovations to sustainably produce diverse foods and maintain and enhance ecosystem services.

Unsustainable supply and value chains
Decades-long partnerships in the Yangambi Engagement Landscape have allowed us to reimagine how trade and investment can create opportunities in tree and forest landscapes for smallholders and promote investments that safeguard the rights of women and marginalized groups.

Extreme inequity
Our contribution to the Amazon Sustainable Landscapes Program demonstrates how CIFOR-ICRAF addresses power and inequity by making connections between poverty, land rights, livelihoods and gender for effective collaboration and just outcomes.