Hybrid Event
CIFOR-ICRAF at UNFCCC COP28
30 Nov – 12 Dec 2023, Dubai, United Arab Emirates
SESSION
Evidence generation to inform policy and practice for scaling soil health for resilient food system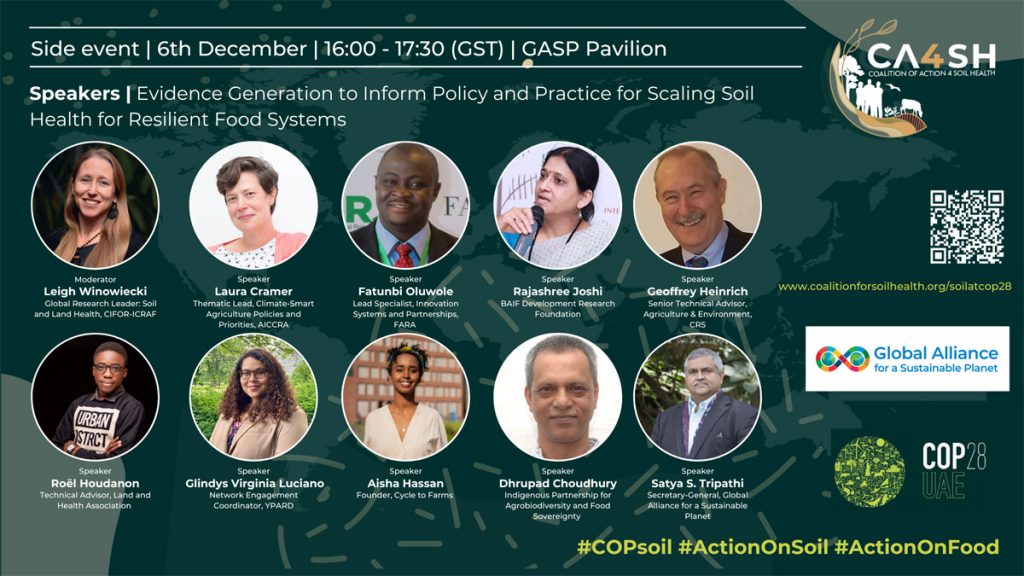 Healthy soil is the very foundation of our food systems and provides several vital ecosystem services, from carbon sequestration to improving food and nutrition security. Efforts to combat desertification, to move from scarcity to prosperity, will need to consider how to scale soil health, globally. With over one third of the Earth's surface degraded and over 3.2 billion people negatively affected by degradation, continuing business as usual is no longer an option. The urgent need to transform our food systems has never been more critical. Now is the time for multi-stakeholder action to build an enabling environment at multiple levels for supporting, financing, scaling and monitoring healthy soil ecosystems.
Session objectives
Showcase evidence and impacts of enhancing soil health on food nutrition and security, climate change mitigation and adaptation, ecosystems restoration, and improved livelihoods.
Demonstrate advancements in soil health monitoring.
Bring in the voice of youth to showcase innovations in communicating data, evidence for increased impact
Inspire actors to include soil health evidence in negotiations and policies.
Identify actionable insights and recommendations for policymakers, practitioners, and researchers to integrate evidence-based practices into policy and agricultural strategies to scale soil health globally.
Agenda