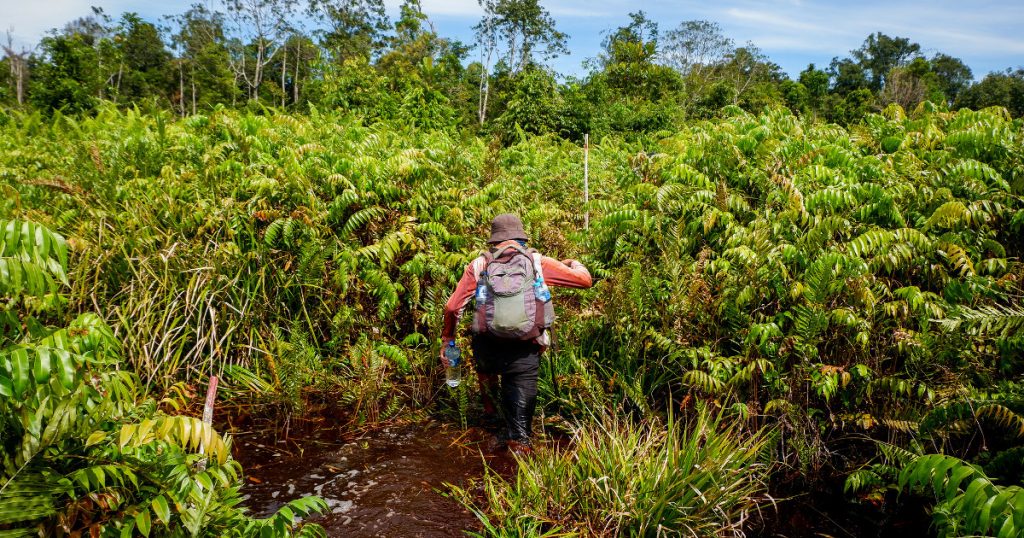 Restoration of peatlands entails deliberate actions that initiate or accelerate the recovery of a degraded peatland to its former better state. Peatland restoration involves measures designed to change ecosystems that have been impoverished, damaged or degraded due to human activity, and revert them to a state similar to, or as near to their natural state as possible through the re-establishment of some of their ecological processes and functions.
Peatland restoration in Indonesia is mainly coordinated by a dedicated governmental agency: the Peatland and Mangrove Restoration Agency or Badan Restorasi Gambut dan Mangrove (BRGM), known as BRG until 2021. A series of steps and actions that guide peatland restoration is underpinned by strategies that target future sustainable land use and management, social justice, livelihoods, governance and conflict resolution. Restoration activities include rewetting drained peatlands (by back-filling and blocking canals), revegetation of landscapes and revitalizing communities (by supporting sustainable livelihood development) and avoiding land clearing by fire. By 2020, BRG had coordinated peatland restoration activities in seven provinces: Riau, Jambi, South Sumatra, West Kalimantan, Central Kalimantan, South Kalimantan and Papua.
Long-term successful and effective peatland restoration needs monitoring efforts that can inform design, strategy, site selection and management approaches, as well as improve restoration efforts through required adjustments. Availability of tested protocols or standard tools to help assess the outcomes of restored ecosystems can help practitioners determine peatland restoration successes and failures.
Specifically, having simple, easy to recognize and measurable monitoring indicators is helpful for peatland restoration stakeholders. In this context, CIFOR-ICRAF – with support from BRGM, Riau University's Disaster Risk Study Centre or Pusat Studi Bencana (PSB) and PT Rimba Makmur Utama (PT RMU) as well as consultations from several national and international peatland experts – has developed a scientifically robust, reliable and practical set of criteria and indicators (C&I) to help assess the progress and outcomes of peatland restoration efforts. Issues that are important for peatland restoration can be divided into four major categories: biophysical, economic, social and governance. The criteria and indicators approach aims to recognize and incorporate attributes from all four aspects to allow nuanced understanding of all facets of a peatland, particularly assessing the local context.