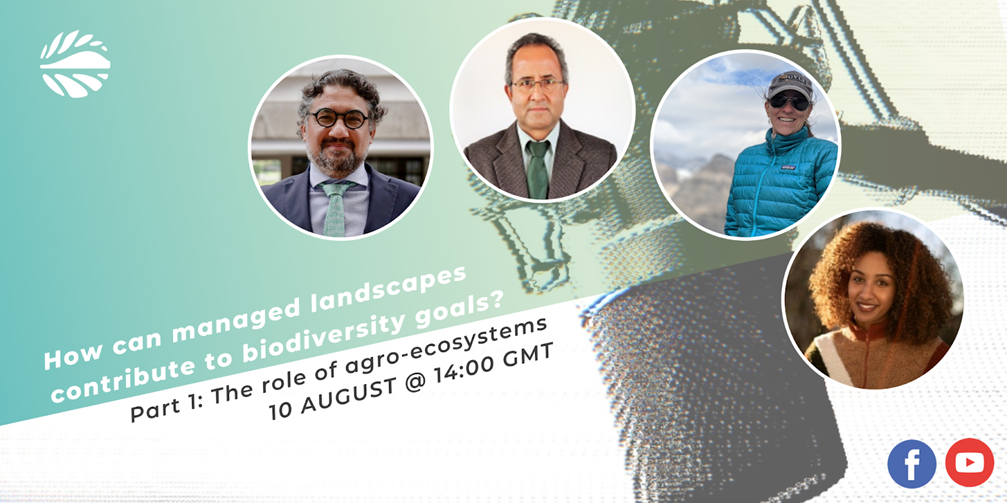 The first conversation will explore the unique ways agricultural ecosystems can contribute to biodiversity conservation, separate from those of natural ecosystems. Hear from leaders and experts working in Costa Rica, Nepal and across the Yellowstone-Yukon corridor about the intersection of managed landscapes and the preservation of our planet's species.
Speakers:
Franklin Paniagua (keynote) is the vice minister of Environment and Energy of Costa Rica. With more than 20 years of experience in environmental law, Franklin is a specialist in the negotiation, facilitation and mediation of conflicts of public interest. He holds a law degree from the Faculty of the University of Costa Rica, a master's degree from the University of Florida in Latin American studies, and is a Ph.D. candidate in Interdisciplinary Ecology at the same university. He has been trained in negotiation and mediation of the Supreme Court of Justice in Costa Rica and was part of the country's first generation of certified mediators. Franklin has served as a facilitator in Latin America for courses in public interest disputes and negotiation-based professional training programs. He is the author of publications on citizen participation, social dialogue and negotiation, as well as academic articles in the fields of environmental policy, public conflicts and citizen participation, among others.
Dr. Jodi Hilty is president and chief scientist of the Yellowstone to Yukon Conservation Initiative, a joint U.S.-Canada non-profit organization. Y2Y's vision is an interconnected system of wild lands and waters stretching from Yellowstone to Yukon, harmonizing the needs of people with those of nature. She is a conservation biologist specializing in ecological corridor and large landscape research, and has over 20 years of experience managing large landscape conservation efforts. She is also vice-chair of the IUCN connectivity specialist group and lead author on the IUCN global guidelines for connectivity.
Dr. Madhav Karki is an adjunct professor at Tribhuwan University's Institute of Forestry in Nepal and also serves as deputy chair of the IUCN Commission on Ecosystem Management (CEM). He has been working for more than 40 years in teaching, research and development work in natural resources management, biodiversity and ecosystem services conservation, climate change adaptation, and food systems in South and Southeast Asian and Hindukush Himalayan countries. He currently is also a member of the Multidisciplinary Expert Panel (MEP) of the IPBES and is an expert member of the Nepalese government's Environment Protection Council. He has more than 100 publications on biodiversity conservation, ecosystem management, food systems, indigenous knowledge, and sustainable management of forest resources and climate change adaptation related topics.
Salina Abraham (moderator) is a passionate advocate for youth involvement in solutions to environmental challenges. She is currently pursuing a Masters in Public Policy at the Harvard Kennedy School, and serves as a strategic advisor to the Global Landscapes Forum (GLF) where she works to enhance community action towards the UN Decade on Ecosystem Restoration. Salina's academic work explores the impact of corporate social responsibility programs on Eritrea's rural development, as well as the role of female leadership in economics and finance sectors across Africa.