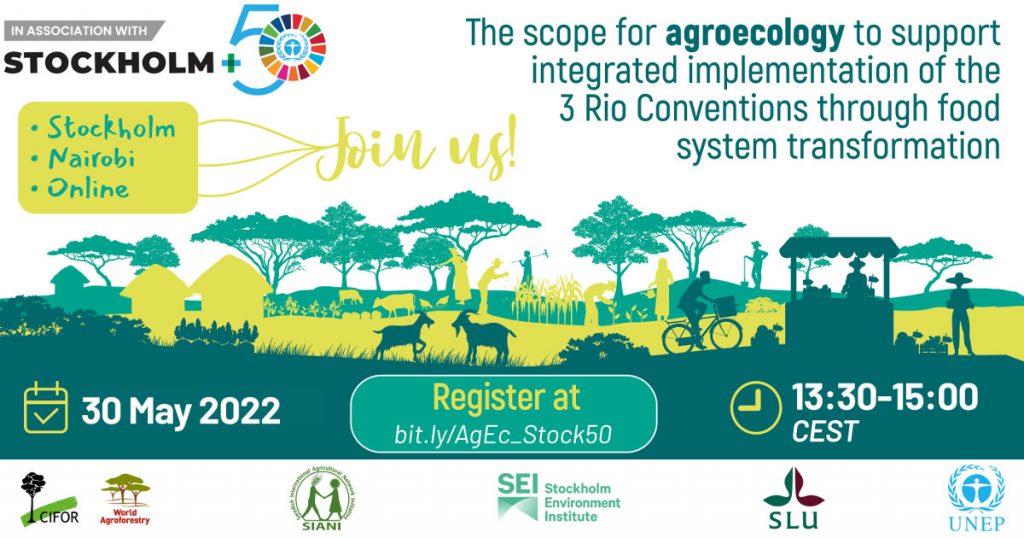 Together with our co-hosts CIFOR-ICRAF, SEI, SIANI, SLU and UNEP, we are happy to invite you to our Stockholm+50 associated event on 'The scope for agroecology to support integrated implementation of the three Rio Conventions through food system transformation.'
Taking place on Monday, 30 May at 13:30pm – 15:00pm CEST, this hybrid event will explore the evidence base for agroecology providing an integrating function in strengthening the implementation of the three Rio Conventions and beyond, as well as contributing to achieving the SDGs. It will also highlight how grassroots experience adds to achieving prosperity for all, while maintaining a healthy planet.
You can choose between online participation via Zoom or a physical one in Stockholm, Sweden or Nairobi, Kenya. Spaces for in-person attendance, however, are limited.
To take part via Zoom, please register at https://shorturl.at/jqxQX
To secure your spot in Stockholm or Nairobi, please complete the registration form at https://bit.ly/AgEc_Stock50 – we will be in touch with further details.
We look forward to discussing agroecology together!
Online participation registration Physical participation registration