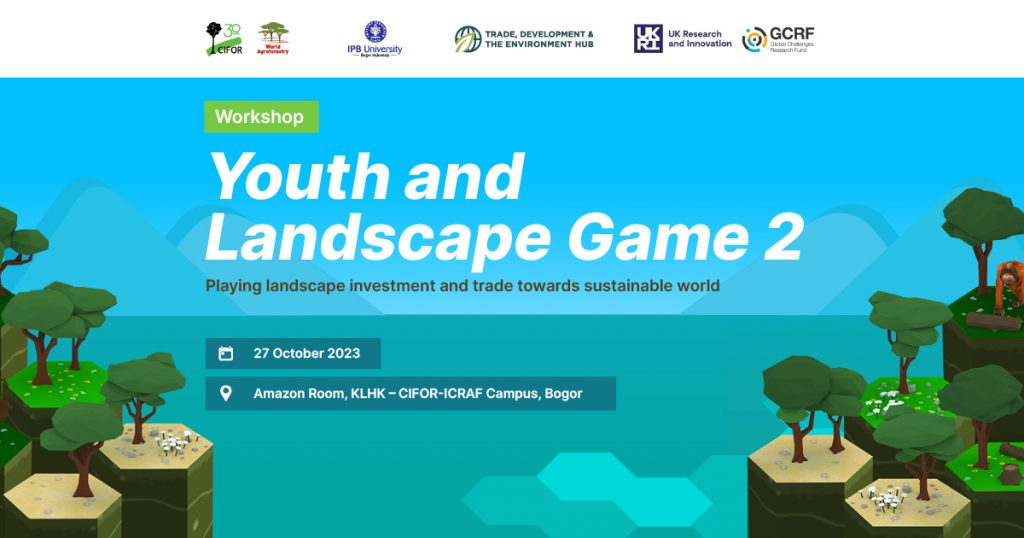 CIFOR-ICRAF and IPB University developed the Landscape Game, an innovative tool for promoting landscape approaches and sustainable trade to stakeholders, including youth, high-school and university students. They are now developing a second version of the game, Landscape Game 2, which can be played on Android mobile devices such as tablets and smartphones.
To ensure the game achieves maximum impact, the organizations are hosting a workshop to conduct joint learning with youth, young researchers and students on landscape approaches and sustainable trade. Development of the Landscape Game is part of the Trade, Development and the Environment Hub (TRADE Hub) research project funded by the UK Research and Innovation Global Challenge Research Hub (UKRI GCRF).
A landscape is a mosaic of different types of land cover. Unsustainable landscape management often causes ecosystem imbalance and has significant impacts on both natural components and human life. For example, conversion of forest for other land uses, and/or forest and land burning can release greenhouse gas (GHG) emissions and drive climate change.
A sustainable landscape approach is defined as a way of managing and allocating land to achieve and align social, economic and environmental goals in a region. This approach prioritizes several principles, such as adaptive management; implementing visions shared by stakeholders in the landscape; affording attention to the multifunctionality of the landscape and the diversity of stakeholders, and prioritizing good. The landscape approach has been promoted worldwide to address climate change, biodiversity conservation and sustainable development initiatives.
Contact person: Salwa Nadhira (s.nadhira@cifor-icraf.org)
Agenda