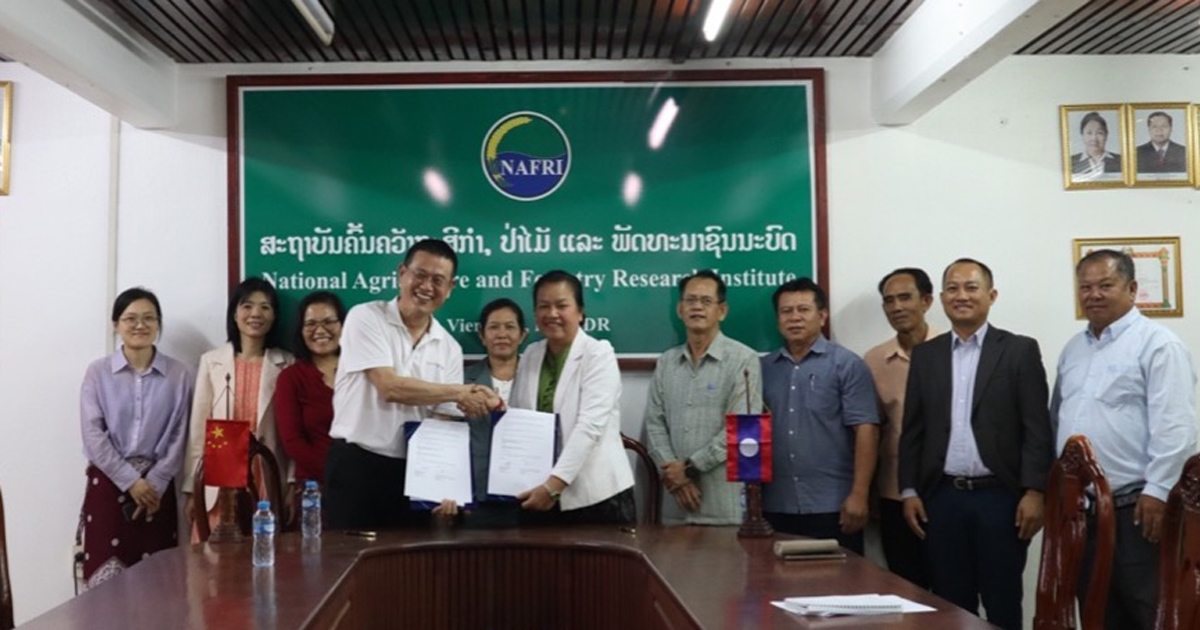 By Beinn Purvis
Delegates from the Mountain Futures Centre and representatives of Laos' National Agriculture and Forestry Research Institute (NAFRI) signed a Memorandum of Understanding (MoU) on mountain futures, agriculture science and technology development at an event from 15-17 March.
The MoU aims to deepen agricultural cooperation between China and Laos, promote friendly exchanges between the two countries, and further expand the influence of China's scientific and technological innovation in Laos.
The Mountain Futures Centre is a joint collaboration between the Kunming Institute of Botany, Chinese Academy of Sciences and CIFOR-ICRAF.
The signing received attention and support from the Lao Ministry of Agriculture and Forestry and was witnessed by Dr Chanthakhone Bualaphanh, Deputy Director General of NAFRI, among other key leaders.
NAFRI is an institution under the Laos Ministry of Agriculture and Forestry that engages in sustainable development in agriculture, forestry, animal husbandry, and mountainous areas. It has rich experience in agricultural breeding, rubber cultivation, forestry promotion, animal husbandry production, farmer training, agricultural product processing training, and prevention and control of agricultural and forestry diseases and pests.
Xu Jianchu, a professor at KIB who led the four-person Chinese delegation, said during the signing ceremony that Yunnan and Laos are regions dominated by mountainous areas and agriculture, with a high degree of similarity in terms of ecological environment, ethnicity and culture, climate, vegetation, and agricultural systems: and that as such there is great potential for cooperation and research between the two countries.
Under the MoU, Jianchu said the KIB plans to leverage its staff's technical expertise in highland agriculture and sustainable mountain development to collaborate closely with NAFRI on the national implementation of the new Mountain Futures Action Plan.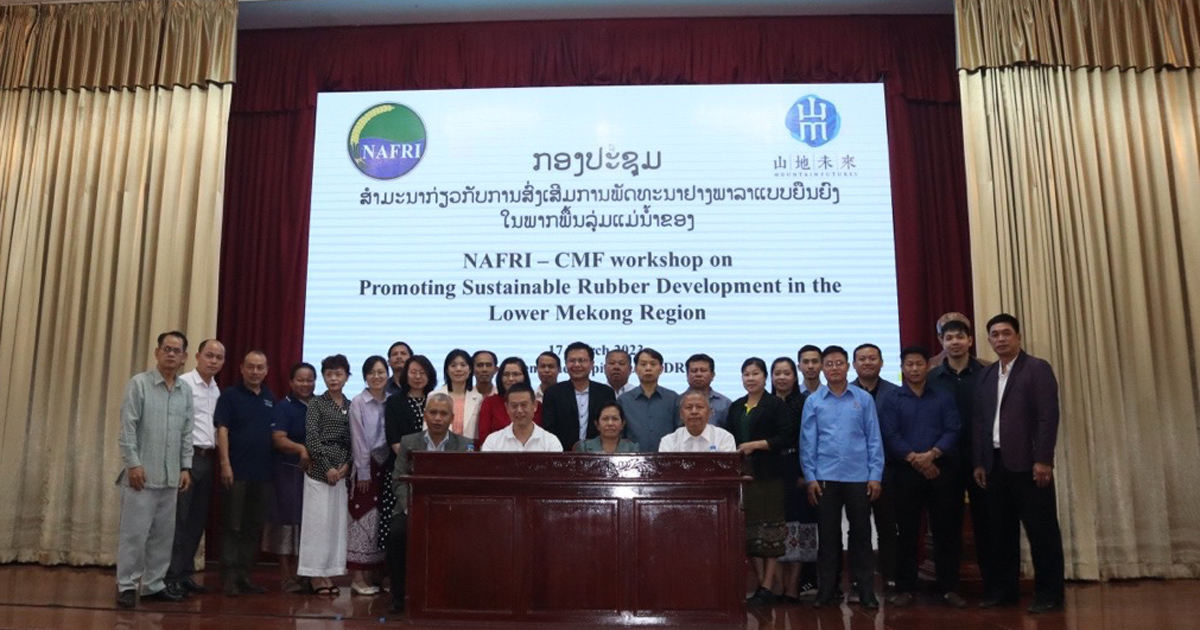 Launched in December 2022 during the UN Convention on Biological Diversity's 15th Conference of the Parties (CBD COP15) and sitting under the Kunming-Montreal Global Biodiversity Framework, the plan defines 15 actions for signatories to take in mountain landscapes in order to prioritise biodiversity protection and recognize the role of conservation in protecting human health. KIB and NAFRI plan to conduct pragmatic cooperation in areas such as germplasm resource protection, seed industry innovation, breeding of improved varieties, agroforestry system construction, and circular ecological agriculture.
Phommy Inthichach, Deputy Director General of Planning and Finance at the Lao Ministry of Agriculture and Forestry, fondly recalled his 2018 visit to Yunnan with the NAFRI delegation when the Honghe Mountain Futures Innovation Centre was established, and expressed heartfelt joy at the achievements of the Centre thus far.
Bouthong Bouahom, former Director General of NAFRI, member of the World Academy of Sciences, and president of the Lao Rubber Association, said that agricultural cooperation between China and Laos is an integral part of the countries' relationship. A rubber substitution project, initiated through the countries' cooperation to incentivize alternatives to opium cultivation, has become a pillar of Laos' agricultural industry, and the opening of the China-Laos railway has turned Laos from "landlocked to land-linked," he said.
Meanwhile, Laos has become an important player in China's cooperation with the Mekong Subregion and the Association of South East Asian Nations (ASEAN).
Bouahom expressed hope that the MoU will further strengthen the mechanisms facilitating cooperation on mountain agriculture, deepen agricultural technology exchanges, and bring new opportunities for Laos' sustainable agrarian development, thus further increasing the contribution of agriculture to Laos' economic growth.
The KIB delegation also ran a seminar, in collaboration with NAFRI, entitled 'Sustainable Rubber Development in the Lower Mekong Region' and supported by the United Nations Environment Programme. Representatives from the UN Food and Agriculture Organization (FAO) in Vientiane, the China Chamber of Commerce of Metals, Minerals and Chemicals Importers and Exporters (CCCMC) and the president of the Lao Rubber Association attended.
The representatives conducted in-depth exchanges on commercial and sustainable rubber planting practices and industry chains for small farmers, explored issues of common concern related to rubber planting and cultivation, and proposed research topics on "zero-carbon rubber" and "green rubber plantations" in the context of biodiversity conservation and climate change mitigation.