CIFOR-ICRAF CEO Éliane Ubalijoro opened the GLF Nairobi 2023 Hybrid Conference: A New Vision for Earth on Wednesday at the CIFOR-ICRAF Nairobi campus. The two-day event, running from 11 – 12 October, brings together global audiences to focus on two key themes: African sovereign solutions and crafting a guide to overcome the effects of climate change, which will set the stage for a fairer world ahead of the 2023 UN Climate Change Conference (COP28).
The full transcript of her speech is below.
Good morning, and welcome to GLF Nairobi: A New Vision for Earth. Karibuni!
Thank you for being here with us today – whether you are on our beautiful CIFOR-ICRAF campus in Kenya – or joining us virtually from across the globe. And a special thank you to representatives from the Ministry of Agriculture and Livestock Development in Kenya and all the dignitaries here.
This year marks the 10th anniversary of the Global Landscapes Forum, an initiative born out of CIFOR-ICRAF. It's dedicated to realizing sustainable and inclusive landscapes. And today, it stands as the world's largest knowledge-led platform for this broad and important topic.
It has a reach of 2 billion. It links over 10,000 organizations in its network. It engages 185 countries in its events. And it continuously drives transformative change. We are delighted to welcome you to this two-day conference.
I am so inspired as I look around – there are people from all walks of life and from all sectors joining us: youth, journalists, policymakers, women-led organizations, members of government, Indigenous community leaders, farmers, activists, artists, authors, chefs and more.
We have invited 200 speakers from around the world and are ready to hear from them and to hear from you.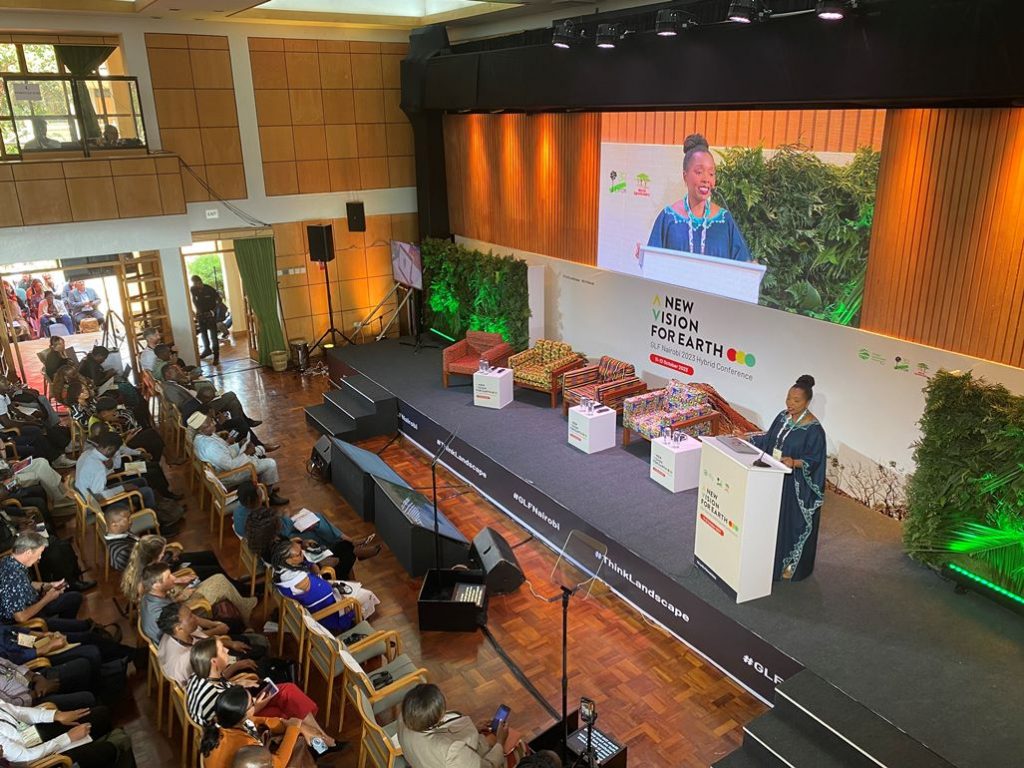 Photo by GLF
What are your ideas for a new vision for Earth? How do you envision an equitable, healthy, and livable planet? What solutions are you eager to share? It's clear we need transformative change.
Earlier this year, the Intergovernmental Panel on Climate Change released its latest assessment report. It was hailed as "A Survival Guide for Humanity." And it highlighted the devastating impact of weather and climate extremes.
Extremes which the world's most affected people and areas face most acutely. Especially in Africa, my home continent.
However, we can go beyond developing a survival guide.
We have existing solutions and the tools to develop new ones that the world truly needs. And if we come together, we can go beyond surviving – to thriving.
We are living in a digital age, characterized by interconnectedness and interdependence. It's time to take the best of this era – employing tools like artificial intelligence and cutting-edge research to address global challenges in an inclusive and responsible way.
It's time to ensure that knowledge and wisdom from around the world are shared with those who need it most. And it is time to harness our collective intelligence for the greater good.
Photo by Joyce Wambui/CIFOR-ICRAF
We are already equipped with solutions; our challenge is to better harness them. And so we need a new vision to guide us.
Over the next two days, this conference will address two key topics. Today, our focus is on Africa and the utilization of sovereign solutions for the continent. The sovereign solutions of local communities play a crucial role in addressing climate change and building resilient food systems.
Imagine the impact of these solutions with enhanced support from our collective intelligence and interconnectedness. Youth, women, and Indigenous Peoples are champions of landscape restoration and management, often operating with limited resources and against all odds.
What could they achieve with better access to resources to strengthen their stewardship of nature in a changing climate? How could rural communities benefit from improved access and partnerships in green jobs through restoration enterprises? How can we promote more nature-based solutions to support local efforts in addressing humanitarian challenges? How can we unite against the unsustainable use of natural resources and bring together diverse stakeholders for inclusive decision-making, that supports locally-led climate action, landscape restoration, and food system transformation?
By the end of today, I hope we can better answer these questions.
And tomorrow, we will shift our focus to the planet as a whole. We'll explore strategies for stabilizing the climate. We'll think critically about how we can solve this challenge together. And we'll compile the solutions we already have available in the lead-up to COP28.
I invite you to view this conference as a celebration – a celebration of what is possible and a celebration of the solutions we already possess. While we face significant challenges, our potential to overcome them is immense.
However, charting a new vision for Earth is not a task that any one organization or individual can achieve alone. It's together – with the collective knowledge, expertise, and wisdom of everyone here – that we can make a difference.
As the CEO of CIFOR-ICRAF, I have the privilege of interacting with dedicated scientists daily. I see firsthand the planet-saving work in our state-of-the-art soil lab, geospatial lab, tree ring lab, gene bank, and more. Our work, in collaboration with our partners, provides tangible solutions to some of the most pressing challenges of our time.
So when we think about a new vision, and what that could entail, I want you to think about the solutions we already have. And I want you to think about how we can better share them and implement them worldwide.
This global event is the ideal forum to discuss solutions ahead of COP28. All key stakeholders are here – scientists, policymakers, Indigenous Peoples, practitioners, youth, financiers, activists, artists…
And we need everyone for a new vision for Earth. A vision that takes us beyond surviving – a vision that charts the way forward to thrive.
Thank you so much for joining us and I wish you a wonderful conference!
Asante sana.
To join GLF Nairobi: A New Vision for Earth, please register here. The conference runs from 11 – 12 October both online and in person in Nairobi, Kenya.