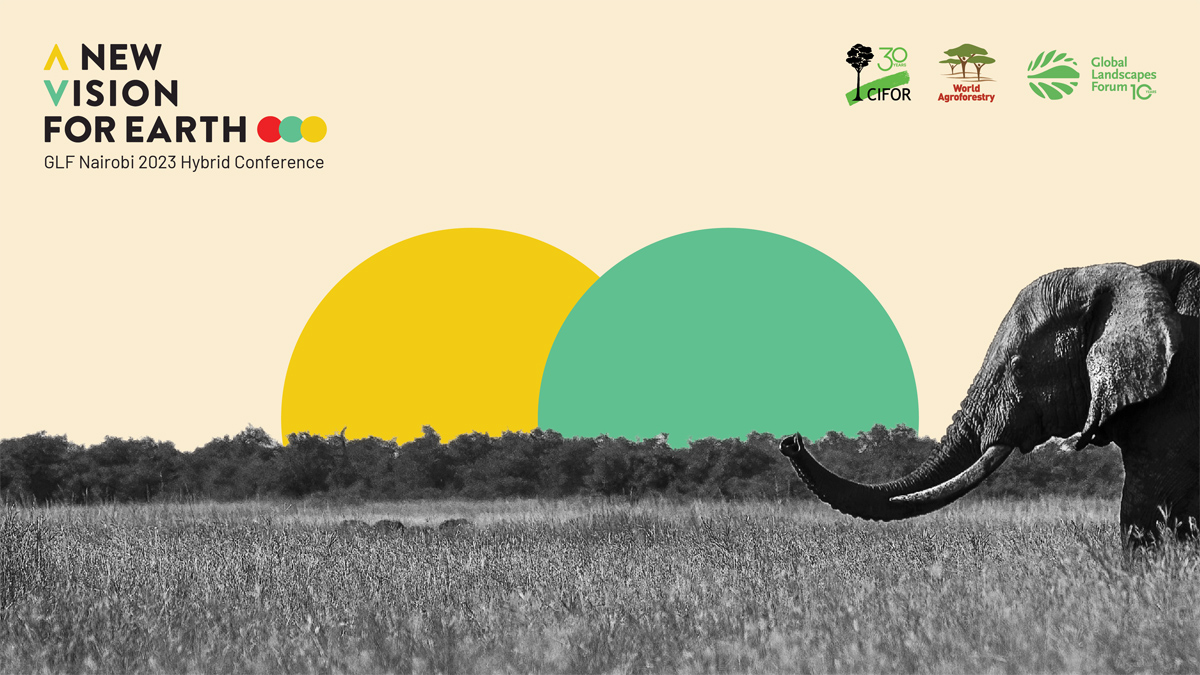 NAIROBI, KENYA (4 October 2023) – The Center for International Forestry Research and World Agroforestry (CIFOR-ICRAF) is staging the largest hybrid conference on local solutions to the global climate and biodiversity crises this month.
On 11-12 October, thousands of scientists, activists, women leaders, Indigenous leaders, financiers, policymakers, practitioners and private-sector representatives will gather for the GLF Nairobi 2023 Hybrid Conference: A New Vision for Earth, which is organized by the Global Landscapes Forum.
More than 120 representatives from over 80 organizations are expected to speak in 32 sessions either online or in person at the CIFOR-ICRAF campus in Nairobi, Kenya.
Experts attending include Éliane Ubalijoro, chief executive officer of CIFOR-ICRAF; Marina Silva, Brazil's minister of environment and climate change; Peter Minang, CIFOR-ICRAF director for Africa; Vivienne Yeda, director general of the East African Development Bank; Jochen Flasbarth, state secretary at the German Federal Ministry for Economic Cooperation and Development (BMZ); as well as Lyla June Johnston, an Indigenous musician, author and community organizer.
"The climate and biodiversity crises are directly affecting communities in Africa and other regions of the Global South whose livelihoods are closely connected to natural resources," CEO Ubalijoro says. "This hybrid event is the ideal forum to discuss local solutions ahead of the UN Climate Change Conference (COP28) later this year."
The first day of the GLF Nairobi 2023 Hybrid Conference will focus on sovereign solutions and how the African continent can create a prosperous and sustainable future. The second day will be about climate, highlighting ways to craft a "Survival Guide for a Planet in Crisis."
The conference will cover thematic areas such as rural development and green jobs; women in landscapes; youth; environmental justice and rights; sustainable finance; and locally led landscape solutions.
CIFOR-ICRAF is hosting several sessions within the conference, covering topics including regional observatories for sustainable African ecosystems (11 October); shaping Africa's future through locally-led landscape restoration (11 October); and scaling jurisdictional approaches for sustainable palm oil and agriculture (12 October).
Leading filmmakers and activists will also participate in a film festival at the conference, which will present a series of selected documentaries, Q&A sessions with the creators, and a discussion panel on the intersection of storytelling and landscape restoration.
The GLF is the world's largest knowledge-led platform on integrated land use. It is led by CIFOR-ICRAF in collaboration with its 33 charter members, including the United Nations Environment Programme (UNEP) and the World Bank. Based in Bonn, Germany, the GLF seeks to create a movement dedicated to achieving the Sustainable Development Goals and Paris Agreement. It has connected nearly 10,000 organizations and over 215,000 participants, while reaching more than 1 billion people from 185 countries.
For more information and/or to arrange interviews with speakers or hosting organizations, contact Kelly Quintero (k.quintero@cifor-icraf.org).