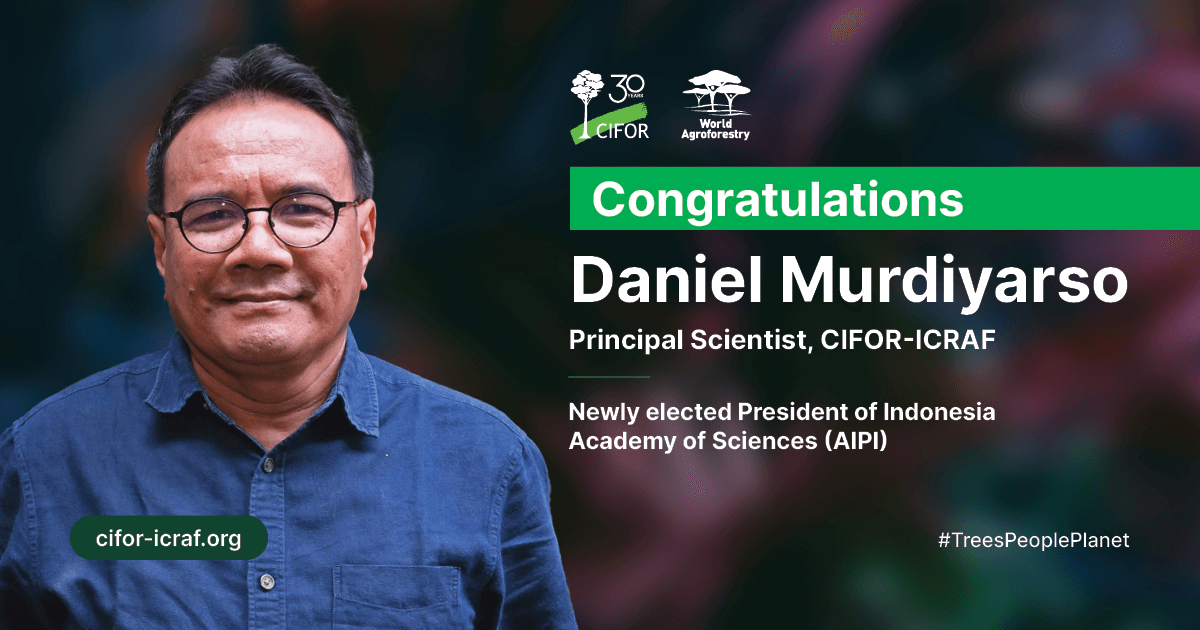 Dr Daniel Murdiyarso, a Principal Scientist at CIFOR-ICRAF, will chair the prestigious Indonesia Academy of Sciences (AIPI) for a five-year term until 2028.
Dr Murdiyarso is also a full professor of the Department of Geophysics and Meteorology at IPB University with a research focus including climate change mitigation and adaptation and land-use change and biogeochemical cycles.
AIPI was founded by, among others, the then-president of Indonesia and established by law in 1990 to function as a platform for leading Indonesian scientists.
CIFOR-ICRAF Principal Scientist Dr Daniel Murdiyarso has been unanimously elected President of the Indonesia Academy of Sciences (AIPI).
"It is a great honour to lead the Indonesia Academy of Sciences over the next five years," said Dr Murdiyarso, an academy member since 2002. "This is not an easy mandate, but I am confident that through the collegial fashion of the academy, we'll realise our purpose in nurturing Indonesia's scientific temper and supporting even greater impact," he said in his brief acceptance speech.
Dr Murdiyarso has been a scientist at CIFOR-ICRAF, a global leader in action research on trees, forests and agroforestry landscapes, for 20 years. He has made significant contributions to building a global understanding of the importance of wetland ecosystems and has been involved in international collaborations and research projects to develop sustainable wetland management strategies.
"We are thrilled to congratulate Daniel on this remarkable achievement," said CIFOR-ICRAF CEO Dr Éliane Ubalijoro. "Daniel's commitment to excellence and improving the lives of people in Indonesia and globally through his work exemplifies the spirit of innovation and dedication that drives CIFOR-ICRAF forward."
The decision, made during the AIPI Plenary Session on 27 June, garnered Dr Murdiyarso – currently the Head of Basic Science Commission at AIPI – the highest support from all members including former Indonesian Environment Minister and respected climate change authority Emil Salim.
Throughout his career, Dr Murdiyarso has significantly contributed to climate change research in Indonesia and internationally.
As former Deputy Minister of Environment in the government of Indonesia, he was the National Focal Point of the United Nations Framework Convention on Climate Change and Convention on Biological Diversity.
He also played an extensive role in the Nobel Peace Prize-winning Intergovernmental Panel on Climate Change (IPCC) as Convening Lead Author of the IPCC Third Assessment Report and the IPCC Special Report on Land-use, Land-use Change and Forestry.
Over the past two decades, he has published more than 100 research works on land-use change and biogeochemical cycles, climate change mitigation and adaptation. He has received global recognition for his work, including the Ahmad Bakrie Award (2010), the Sarwono-LIPI Award (2018), and the Habibie Prize (2020).
In 2022, Dr Murdiyarso received a prestigious doctorate from the Faculty of Agriculture and Forestry at the University of Helsinki, Finland, making him the first-ever Indonesian scientist to receive the honorary degree of Doctor Honorary Causa from the institution.
Prominent scientific figures, including the then-president of Indonesia BJ Habibie, founded AIPI and it was established by law in 1990. The academy functions as a platform for leading Indonesian scientists and is organised in five fields: basic science, medicine, engineering, culture and social sciences. It currently hosts 56 active members.
FOR MORE INFORMATION AND TO REQUEST MEDIA INTERVIEWS, PLEASE CONTACT:
---
Bahasa
Ilmuwan CIFOR-ICRAF, Dr Daniel Murdiyarso Terpilih Menjadi Ketua Akademi Ilmu Pengetahuan Indonesia (AIPI)
Dr Daniel Murdiyarso, Ilmuwan Utama CIFOR-ICRAF akan memimpin lembaga prestisius Akademi Ilmu Pengetahuan Indonesia (AIPI) selama lima tahun hingga 2028.
Dr Murdiyarso merupakan guru besar Departemen Geofisika dan Meteorologi, IPB dengan fokus riset antara lain mitigasi dan adaptasi perubahan iklim, perubahan pemanfaatan lahan dan siklus biogeokimia.
AIPI didirikan termasuk oleh ilmuwan yang kemudian menjadi Presiden RI dan diperkuat oleh Undang Undang pada 1990, yang berperan sebagai wadah bagi ilmuwan terkemuka Indonesia.
Secara aklamasi, Ilmuwan Utama CIFOR-ICRAF Dr Daniel Murdiyarso terpilih menjadi Ketua Akademi Ilmu Pengetahuan Indonesia (AIPI).
"Menjadi kehormatan besar untuk memimpin Akademi Ilmu Pengetahuan Indonesia selama lima tahun ke depan," kata Dr Murdiyarso, yang menjadi anggota sejak 2002. "Ini bukan kepercayaan yang mudah, tetapi saya yakin, melalui kebersamaan dalam akademi ini, kita akan mampu mewujudkan tujuan memelihara gairah ilmu pengetahuan Indonesia dan memberi dampak lebih besar," paparnya dalam sambutan penerimaan.
Telah 20 tahun Dr Murdiyarso menjadi ilmuwan CIFOR-ICRAF, lembaga terdepan dalam riset-aksi dalam bentang alam pohon, hutan dan agroforesti. Ia memberi kontribusi signifikan dalam membangun pemahaman global mengenai urgensi ekosistem lahan basah, selain terlibat dalam sejumlah kolaborasi internasional dan proyek riset pengembangan strategi manajemen lahan basah berkelanjutan.
"Dengan bangga kami mengucapkan selamat pada Daniel atas pencapaian istimewa ini," kata CEO CIFOR-ICRAF, Eliane Ubalijoro. "Komitmen Daniel pada ekselensi dan peningkatan kehidupan masyarakat Indonesia dan global melalui karya menjadi teladan semangat inovasi dan dedikasi yang mendorong CIFOR-ICRAF melangkah maju."
Keputusan ini diambil pada Sesi Pleno AIPI, 27 Juni, menunjuk Dr Murdiyarso – Ketua Komisi Ilmu Pengetahuan Dasar AIPI saat ini – dengan dukungan penuh dari seluruh anggota termasuk mantan Menteri Lingkungan Hidup dan otoritas perubahan iklim Indonesia, Emil Salim.
Sepanjang karirnya, Dr Murdiyarso memberi kontribusi signifikan dalam riset perubahan iklim di Indonesia dan dunia.
Sebagai mantan Wakil Menteri Lingkungan Hidup Indonesia, ia menjadi Penanggungjawab Nasional dalam Konvensi Kerangka Kerja PBB mengenai Perubahan Iklim dan Konvensi Keanekaragaman Hayati.
Ia juga memainkan peran besar dalam perolehan Hadiah Nobel Perdamaian Panel Antar-pemerintah mengenai Perubahan Iklim (IPCC) sebagai Penulis Utama Laporan Asesmen Ketiga IPCC dan Laporan Khusus IPCC mengenai Penggunaan Lahan, Perubahan Penggunaan Lahan dan Kehutanan.
Dalam dua dekade terakhir, ia mempublikasikan lebih dari 100 karya riset mengenai perubahan penggunaan lahan dan siklus biogeokimia, mitigasi dan adaptasi perubahan iklim. Ia memperoleh pengakuan global atas karyanya, antara lain Penghargaan Ahmad Bakrie (2010), Penghargaan Sarwono-LIPI 92018), dan Penghargaan Habibie (2020).
Pada 2022, Dr Murdiyarso menerima gelar doktor kehormatan dari Fakultas Pertanian dan Kehutanan Universitas Helsinki, Finlandia. Penghargaan ini menjadikanya orang Indonesia pertama yang mendapat gelar Doktor Honoris Causa dari universitas tersebut.
Tokoh ilmuwan terkemuka, termasuk ilmuwan yang kemudian menjadi presiden Indonesia BJ Habibie, mendirikan AIPI, dan diperkuat Undang Undang pada 1990. AIPI berfungsi sebagai wadah bagi ilmuwan terkemukan Indonesia dan dibagi menjadi lima bidang: komisi ilmu pengetahuan dasar, ilmu kedokteran, ilmu rekayasa, ilmu kebudayaan dan sosial. Saat ini, AIPI berisi 56 anggota aktif.
UNTUK INFORMASI LEBIH JAUH DAN PERMINTAAN WAWANCARA MEDIA, SILAHKAN HUBUNGI: