Trees and forests: An investment in climate resilience
06 – 18 November 2022, Sharm el Sheikh, Egypt
SESSION
Oceans and Land Day at the UNFCCC 4th Capacity Development Hub
Leveraging local adaptation knowledge to scale up nature-based solutions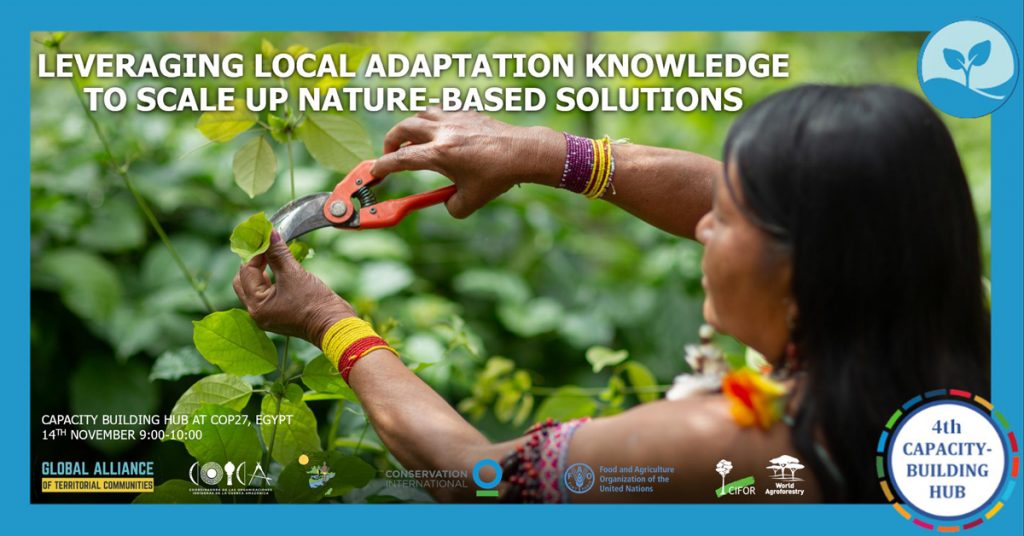 This session is a discussion and knowledge-exchange on how traditional ecological knowledge can support climate change adaptation and how different organizations can support local adaptation efforts.
Speakers will:
exchange local experiences and traditional ways of managing territories from the Amazon, Burkina Faso and Indonesia that also support adaptation, mitigation and local mechanisms for decision making and inclusion and capacities needs.
share experiences of projects and partnerships with Indigenous Peoples that strengthen sustainable land management practices and support an inclusive use of nature to help local communities to adapt to climate change.
present policy recommendations for supporting different knowledge systems and capacities building on forest-based adaptation plans and policies 
present scientific research and principles on using forests and trees for transformational adaptation, including co-design and capacities from a gender lens.