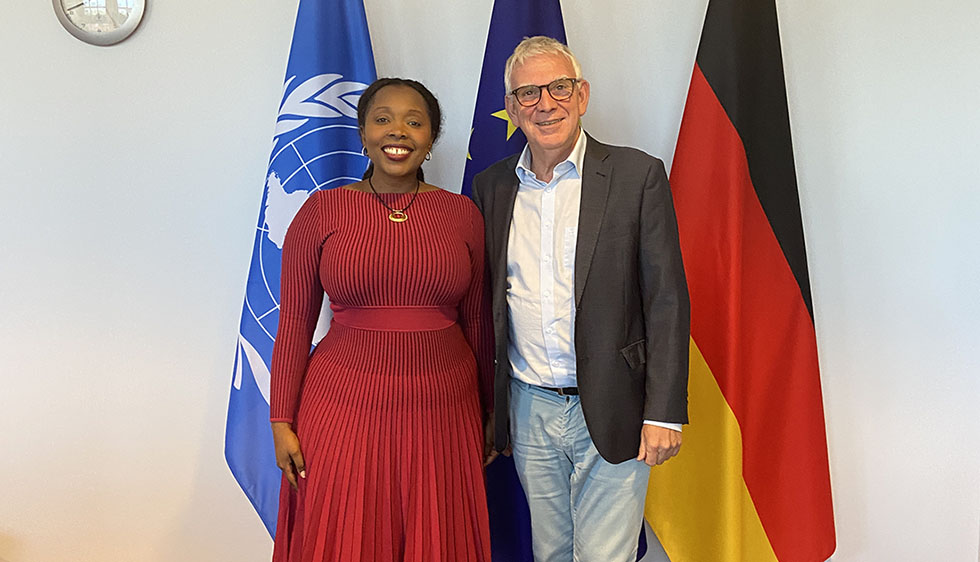 CIFOR-ICRAF CEO Eliane Ubalijoro with State Secretary in the Federal Ministry for Economic Cooperation and Development Jochen Flasbarth. Photo supplied
CIFOR-ICRAF CEO Dr Éliane Ubalijoro has been appointed to the advisory board for the Hamburg Sustainability Conference (HSC), a newly announced initiative to build global solutions for the social-ecological transformation our planet desperately needs.
"I am honoured to be serving on the advisory board of this critical new conference, which is bringing leaders from around the world together to develop an action plan for achieving the UN Sustainable Development Goals," said Ubalijoro.
"At CIFOR-ICRAF, we envision a world where the private sector takes a greater role in transformative change, and our work is already helping achieve that," she said. "I look forward to supporting a push for investment into innovative solutions developed for countries that need it – and by those impacted by crises such as biodiversity loss, climate change and food insecurity."
The HSC, which will take place on June 20 and 21, 2024 in Hamburg, Germany, is a new development policy platform to establish a trustful and collaborative exchange among world leaders from the Global South and the Global North, as a means to accelerate the implementation of the Sustainable Development Goals (SDGs).
It is an initiative of the German Federal Ministry for Economic Cooperation and Development, in close cooperation with the United Nations Development Programme (UNDP), the Michael Otto Foundation, and the City of Hamburg.
The conference will provide an opportunity to discuss critical topics such as making value chains more sustainable, barriers to sustainable development goal implementation, and how the private sector can support SDG achievement. It aims to foster new partnerships and collective action amongst committed global policymakers, private sector leaders, academia experts, and civil society. The HSC's joint solutions will be incorporated into the UN's high-level Summit of the Future in September 2024.
---
For more information, please contact:
Azzura Lalani
Head of Global Outreach and Engagement
Bonn, Germany
Email: a.lalani@cifor-icraf.org