Key message: Grow species and genetic diversity, and collect seed according to best practice
By Cathy Watson
Tree seed is woefully missing from most discourse on planting trees but is central to all tree planting to restore ecosystems and productive healthy landscapes. So, it was no surprise that 90 people thronged the World Agroforestry campus in Nairobi when offered the chance to learn about tree seed, and interested parties had to be turned away.
One who got a spot at the event on 4-6 July 2022 was Sam Dindi. 'I really needed this,' said the young environmentalist who leads Kenyan NGO Mazingira Yetu. 'Sourcing quality seeds is key to healthy seedlings and biodiversity restoration that meets multiple needs.'
The event was organized by CIFOR-ICRAF, which has the world's largest collection of tropical agroforestry tree species; Botanic Gardens Conservation International (BGCI), the world's biggest plant conservation network; and Terraformation, a startup promoting modular off-grid seed banks that can process and store millions of seeds per year.
Titled 'Tree diversity and quality tree seed for livelihoods, nutrition, water, soil, climate and nature', the meeting hosted participants from Kenya, Rwanda and Tanzania. Over 30 organizations attended, all of which actively plant trees.
It included a grueling pre and post-test, a practical on seed collection in Nairobi's Karura Forest, and culminated in a Certificate of Training in The Theory and Practice of Seed Conservation.
Day one addressed the urgency of tree diversity, focusing first on species diversity, and stressing the need to expand from the commonly planted exotics to far more indigenous species.
'There is a misconception that indigenous trees take a long time to grow. It is incorrect.
What is more, they can be so much better in protecting ecosystems and soil conservation,' said Dr Fandey Mashimba, head of Tanzania Forest Service Agency's National Tree Seed Centre.
The first day of the meeting then addressed genetic diversity – the variation within a species, a quality which derives from seed sourced from widely-spaced populations with unrelated mother trees to ensure that trees have the variation to thrive in different habitats and climates while withstanding current and future stresses.
CIFOR-ICRAF's Dr Abrham Abiyu vividly illustrated how crucial genetic diversity is. The leader of a project to grow Ethiopia's tree seed sector, he praised Eucalytpus trees for being a major cash crop for farmers. But he said that their health was already jeopardized by their very narrow genetic base.
'We need intra-species — within species — genetic diversity. Ethiopia's most important Eucalyptus species are highly affected by disease. Unfortunately, they descend from a just few trees that were introduced 100 years ago. It is hard to find ones that are resistant.'
Participants also heard presentations from James Mwangombe, Head of Forest Health and Biodiversity Conservation at Kenya Forest Service, and representatives of organizations with commitments to plant trees.
Although many described obstacles to diversifying their planting, including lack of seed, all appreciated the need to plant a wider mix of native species. Loureen Awuor said the Kenya National Farmers' Federation aims to plant 10 million trees, 50% indigenous. Anne Micomyiza said her NGO, One Acre Fund Rwanda, is testing which native species farmers prefer.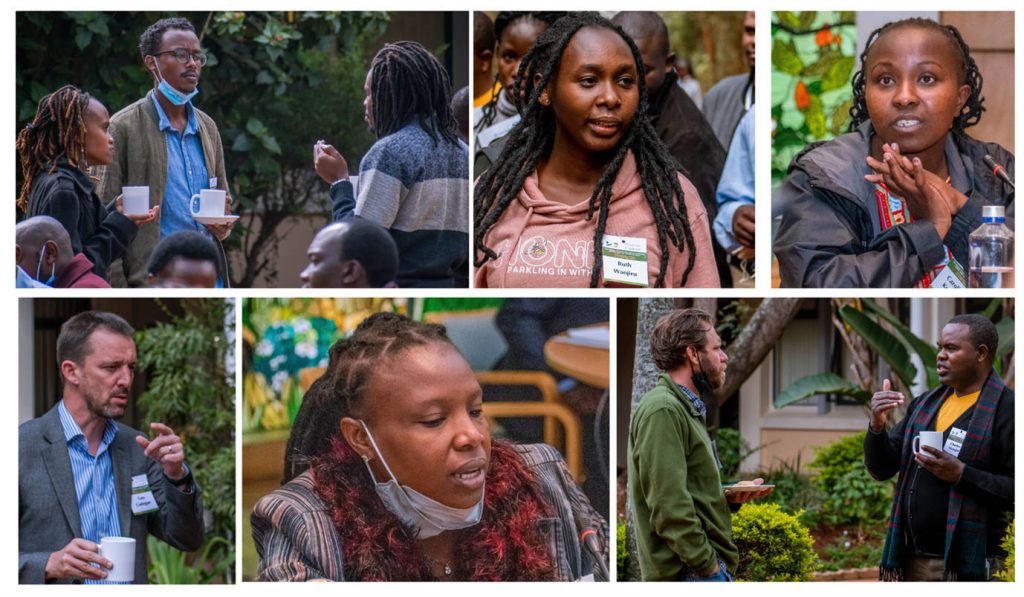 But genetic diversity was a newer concept, and as discussions progressed, it became clear that numerous inter-related seed problems bedevil tree growing. Reasons include:
National tree seed centers follow best practice on seed collection, but lack the capacity to provide seed for all species required and often face low demand for seed of native species, so NGOs may not find it in stock.
Where private seed dealers exist, norms for quality are absent.
Projects often feel that they do the right thing by running their own nurseries and buying seed from the comunity. Without training, however, the community is likely to source from a handful of trees, posing a grave threat of 'inbreeding depression', the reduced survival and fertility of offspring.
– Buying seedlings from existing nurseries can feel right too, putting money in local pockets. But similarly, most nurseries collect seed from few trees. 'It is very difficult to trace the source,' said CIFOR-ICRAF's Sammy Carsan, a Kenyan expert who works regionally.
Finally, a crisis overshadowing everything is land degradation. Indigenous trees are becoming harder to find.
'Seed sources of native species are disappearing due to land use change, climate change, and over-exploitation,' said Carsan. 'They lack custodians.'
Kristy Shaw, BGCI's Head of Ecological Restoration and Tree Conservation, said that 147 out of Kenya's more than 1100 native tree species are at risk of extinction. The global figure for all trees is one-third.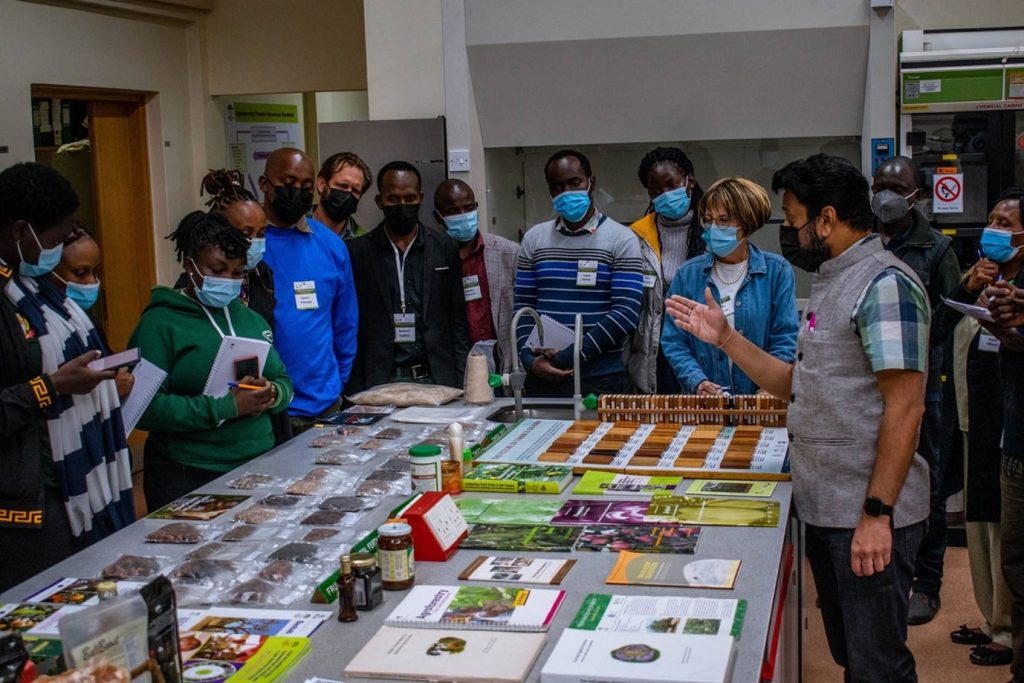 But the mood was still upbeat. Participants said that they had just not thought so much about it, and now they knew. Further, the next two days offered a way forward, with a formal course on seed with pre and post-tests, lectures, seed viability testing, visits to CIFOR-ICRAF's genebank.
Its content falling on open ears, the course drew on Millennium Seed Bank Partnership (MSBP) training resources and was enriched by instructors Shaw and Herbert Ongubu of BGCI, Marian Chau of Terraformation, and Zachayo Kinyanjui, Ludy Keino and Agnes Were of CIFOR-ICRAF.
As participants carried out cut tests on forest seed to look for signs that indicate maturity, they were reminded that the aim of seed collection is to capture diversity so that important variants are not lost, and that collectors need to be safe and efficient.
Here were key teachings.
On seed collection
'Collect from ideally at least 50 individual trees per population, and as many populations as possible.'
'Collect as close as possible to the point of natural dispersal.'
'Avoid collecting seed from the ground: it often has infestation by insects.'
On seed handling and processing
'Remove seeds from fleshy fruit as soon as possible; moisture degrades them. 
The sooner you begin processing and drying seeds and the drier the seed, the longer they will last.'
'Dry seed in the shade not in the sun. Heat degrades the seed.' 
At the closing, the participants counted themselves lucky.
'We are now the informed generation at the dawn of what is required going forward,' said one group.
Kenyan youth climate activist Patricia Kombo was glad too. 'We had been lagging behind in seed.'
CIFOR-ICRAF's Ramni Jamnadass reiterated that 'Native trees are well adapted, providing many goods and services. When you plant exotics, focus on genetic quality.'
"When you collect from a tree, take no more than 20% of mature seed available on the day. Leave sufficient for natural regeneration,' said Kirsty Shaw of BGCI.
---
More information:
Contact c.watson@cgiar.org about partnering with CIFOR-ICRAF; p.hendre@cgiar.org about CIFOR-ICRAF's gene bank; and  r.jamnadass@cgiar.org and l.graudal@cgiar.org to join CIFOR-ICRAF's Transformational Partnership Platform – Transforming the Quality of Tree Planting and learn more on Integrated Tree Seed and Seedlings systems.
Further resources:
What to Plant Where in Ethiopia portal, the Global Tree Knowledge Platform,  Tree Seeds for farmers – A toolkit and reference source and The Resources for Tree Planting Platform, ICRAF
Note: The figure of 50 trees comes from the 1970s when A.H.D Brown and D.R. Marshall calculated the minimum number needed to 'capture allelic variants that occur in a population'. Today most major seed collecting organizations still use the 50 species rule. (Hoban 2017) Consensus is growing, however, that fewer trees can be adequate. In 2018 researchers from Morton Arboretum and Royal Botanic Gardens, Kew concluded that 'random sampling of at least 15 trees per population from two populations per seed zone (a geographic region defined by climate, soil, altitude, and plant community) is effective'. A CIFOR-ICRAF guide produced the same year says 'normally more than 25 trees'. This shift to a lower number helps resource-strapped organizations in the field, although 15 to 25 plus trees is still significant, and for large conservation and restoration projects, larger numbers may be advised.