CIFOR-ICRAF has teamed with two NGOs to conduct research-in-development of the natural rubber sector in the country.
The Center for International Forestry Research and World Agroforestry (CIFOR-ICRAF) signed a memorandum of understanding with the Institute of Rubber Research Nepal (IRRN) and WorldStar Rubber Farm Company Pvt Ltd on 23 August 2022.
IRRN and WorldStar are a non-governmental organization and private company, respectively, which support development of policies and programmes and implement activities related to rubber and rubber-based production and trade, natural resources management and environmental conservation in Nepal.
"The main aim of this cooperation is to produce scientific knowledge and appropriate technologies, expand activities related to rubber agroforestry and natural resources management, and transfer them for practical application to Government agencies, private companies, communities, practitioners, researchers and development partners," said Javed Rizvi, director for Asia with CIFOR-ICRAF.
To achieve their objectives, the partners will collaborate on raising funds for research and development, particularly regarding sustainable management of rubber cultivation, establishment of a farm-forest "engagement landscape", support for social and community forestry, exploration of the role of forested and production landscapes in climate-change mitigation and adaptation, examination and development of forestry and agroforestry value chains, training and capacity development and exploration of gender and youth issues related to farm-forest development.
"This is a very timely partnership," said Keshab Adhikari, Nepal liaison scientist with CIFOR-ICRAF. "Available information indicates rubber production in Nepal is around 450 tonnes per year while annual consumption of rubber and rubber-related products is 12,000 tonnes. It has been estimated that by 2025 the demand for natural rubber is expected to exceed 20,000 tonnes annually, valued at USD 150 million. To meet this demand and address the environmental and social challenges faced by the country, we see that this partnership is an important step forward."
Tilak B. Bhandari, executive director of IRRN, has devoted more than three decades to pioneering rubber production in Nepal.
"This MoU is a great and demand-based opportunity for cooperation and co-work," he said. "Rubber commercialization has become one of Nepal's top national agenda items for the public and Government, with Parliament prioritising debate so as to swiftly harness its various potentialities."
Hevea brasiliensis, aka rubber, was first planted in Nepal in the 1970s but has expanded very little beyond its initial area. The total land under rubber cultivation is only about 555 hectares, with average annual production of 1.1 tonnes per hectare. Consequently, Nepal imports more than 98% of its natural rubber, mainly from India, China, Thailand and Malaysia.
However, Nepal's eastern region is abundantly suited for growing natural rubber, which needs well distributed rainfall (2000–3000 mm) with relatively high humidity (80%) and temperatures ranging 20–35 0C, all of which are present in the region.
"Nepal's east is a highly fortunate landscape for high-value, low-volume crops like dry rubber, which has not been fully utilized for its admired income at household and national levels," said Navin Joshi, president of WorldStar Rubber, who has expertise in natural-rubber quality assurance, processing and marketing. "This understanding between specialty organizations is an opportunity to boost youth and women's engagement through diverse socio-economic circles."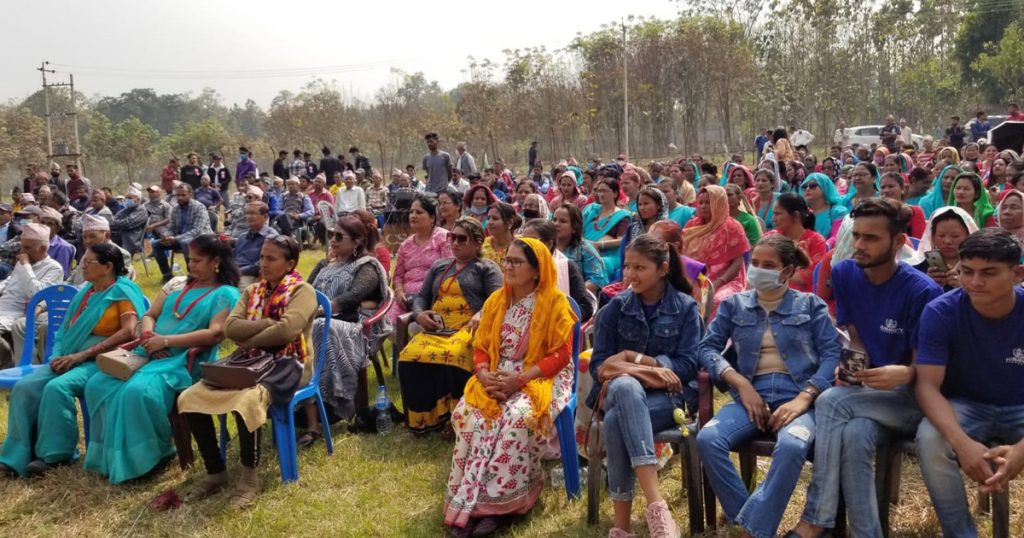 The new partnership will exchange knowledge, carry out research and engage with Government, particularly, to support the re-establishment of a body mandated with development of the rubber sector. A focus of such a body would be facilitating a conducive policy environment and providing various support mechanisms.
General aims would include increasing the number of rubber farmers' groups and individual farmers, training and capacity development, expansion of the rubber-cultivation area and demonstrating the economic advantages of integrating rubber with production of fruit, annual crops and biomaterial, that is, various forms of 'rubber agroforestry'.
"Any such large-scale planting of trees as this partnership proposes should follow CIFOR-ICRAF's maxim of identifying the 'right trees in the right place for the right purpose while respecting local rights," said Himlal Baral, senior forest and landscape restoration scientist with CIFOR-ICRAF. "Evidence shows that agroforestry systems that combine rubber, other tree species — including fruit, timber and non-timber production species — with other alley and intercrops for multiple benefits for livelihoods and the environment are the most effective and efficient."
Contact:
Read more